<![endif] This site uses the Google Analytics by MonsterInsights plugin v6.2.8 – Using Analytics tracking – https://www.monsterinsights.com/ / Google Analytics by MonsterInsights HTML5 shim and Respond.js IE8 support of HTML5 elements and media queries [if lt IE 9]>
The tenth annual class of Outstanding Women of Color awardees were honored at a reception Feb. 22 at the Pyle Center.
In a campus tradition dating back to 2007-2008, the award celebrates women who share their exceptional scholarship with the campus and community through their dedicated work, outreach and impact.
The honorees were:
Christy Clark-Pujara, Associate Professor of History, Department of Afro-American Studies.
Taucia Gonzalez, Assistant Professor of Special Education, Department of Rehabilitation Psychology and Special Education
Beverly Hutcherson, Outreach and Communications Manager, Diversity and Inclusion and Career Pathways Coordinator at the School of Medicine and Public Health
Helen Lee, Assistant Professor of Glass, Department of Art
Barbara Nichols, Former Secretary of the Wisconsin Department of Regulation and Licensing
Brianna Young, current senior, UW–Madison School of Nursing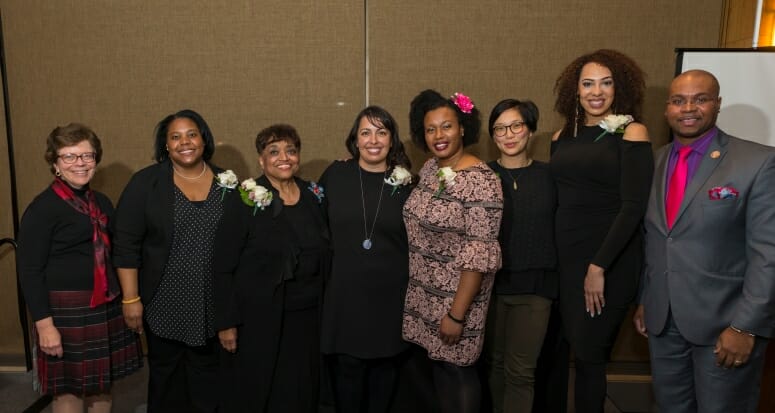 University Communications
27 Bascom Hall
500 Lincoln Drive
Madison, WI 53706-1380Email:
contact-us@uc.wisc.edu
Ph: 608-262-3571
Fax: 608-262-2331
Root element of PhotoSwipe. Must have class pswp.
Source: Outstanding Women of Color honored
Please follow and like us: